Competition between smaller and larger universities and colleges is starting to intensify as grant money intended to advance research and development into various emerging technologies becomes more accessible.
While engineering and computing science programs at schools such as Stanford University or the University of California at Berkeley are well known, regions around the world today increasingly realize how much their future prosperity relies on attracting individuals that have expertise in advanced technologies. It's those types of individuals, after all, that typically go on to launch companies that provide the foundation for the tax base that communities need to thrive.
An example of a public-private partnership that has that goal in mind is an alliance between Nova Southeastern University (NSU) and Broward County in Florida that led to the establishment of The Alan B. Levan | NSU Broward Center of Innovation, otherwise known as Levan Center. Launched last fall, the Levan Center spans a 54,000 sq. ft. purpose-built facility where both students and entrepreneurs gain access to machine learning, spatial computing, data analytics, and blockchain platforms alongside 3D printers and access to a 100 Gigabits-per-second (Gbps) Florida LambdaRail fiber-optic network set up by the State of Florida.
Most recently, the Levan Center was awarded a $1.94 million grant via the National Defense Authorization Act (NDAA) through which the budget for the U.S. Department of Defense is allocated. The NDAA includes a Community Projects Funding (CPF) provision that allows a member of the U.S. Congress to request funding for projects in their district.
The U.S. Congresswoman for the area that includes Broward is Debbie Wasserman Schultz (D-Fla). The funding will be used to build out of their volumetric motion capture studio in addition to further expanding an artificial intelligence (AI) laboratory.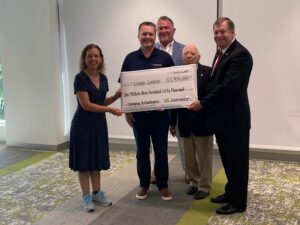 The primary goal is to use this and other funding to close the gap that currently exists between many academic institutions and the business community, says John Wensveen, Ph.D., chief innovation officer and executive director of the Levan Center. The Levan Center is a major stakeholder in what is becoming a tech hub in the South Florida area that is simultaneously seeing an expansion in the size of its business community in the wake of a backlash against COVID-19 restrictions.
Now there are plenty of universities in South Florida that are larger than NSU. Unlike Northern California where two schools dominate the technology landscape, South Florida appears to be moving toward a model where a technology hub will revolve around multiple colleges and universities working closely with local and state governments that are also relying on Congressional representatives to bring home the occasional piece of proverbial pork from Washington, D.C.
Regardless of how businesses gain access to emerging technologies, Wensveen says it is clear technology advances are being made faster than many businesses can effectively absorb. Rather than chasing every next big thing, business and technology leaders need to make sure they have a strategy, he says. "They need to stop, look, listen and learn," says Wensveen.
Otherwise, the business is not likely to recoup the investments being made in technologies that, while having much potential, need to be integrated within a business plan, notes Wensveen.
In fact, the truth is there is no real correlation between the amount of money spent and success. Billions of dollars have been poured into a number of emerging technologies over the last decade that have yet to yield a meaningful return. Rather, it's the level of commitment of the individuals to make up a community that ultimately makes the biggest difference of all.