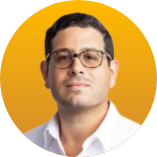 Founder and CEO
Social Mobile®
Robert Morcos
Robert Morcos is the Founder & CEO of Social Mobile®, a mobility solutions integrator specializing in designing customizable GMS Android-powered smart solutions for enterprise. The global company has presence and/or operations in the US, Europe and Asia. Since founding the company in 2011, Social Mobile® has successfully deployed over 11 million smart devices globally across the healthcare, retail, hospitality, education and defense sectors.
Robert has been active in the technology industry since he was fifteen years old. He built Social Mobile with no external capital investment, and to this day it remains a family-owned business. He has been involved in every aspect of the business, including manufacturing, design, development, retail, distribution and consulting. Through his many industry publications and strategic partnerships with some of the largest tech companies in the world, Robert is consistently recognized as an expert in his field. Currently, he is focused on reshoring technology design and manufacturing to help decrease domestic reliance on an often-turbulent global supply chain.
Robert grew up in Miami and attended Florida State University on an academic scholarship. Robert is active on several Boards of Directors, is a member of the Young Presidents Organization (YPO) Miami Chapter, and in 2020 was named as one of South Florida Business Journal's 40 under 40. As part of his overall passion for reducing the digital divide, he is always looking for opportunities to provide digital access to disadvantaged communities.
Get Robert Morcos stories in your inbox.
Robert Morcos Contributions: