Director of P&C Sales at EIS, Ema Roloff is on a mission to demystify the world of digital transformation. Recognized by The AI Journal as a Young Tech Leader and by RISE as an under 35-year-old rising star executive in the insurance industry, Ema strives to optimize her clients' digital strategies. She also opines on the hot topics, and shares her transformative ideas on social media. 
Self-described as "change management obsessed," Ema shifted her career goals after graduating college from becoming a high school teacher to eventually establishing herself as an enterprise sales leader in software.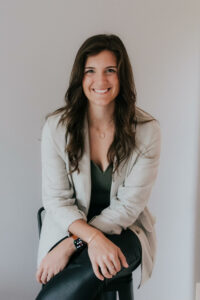 Ema leans into her early education-based mindset in her current position as the EIS, a coretech supplier for insurers.
 "In conversations about digital transformation, the teacher side of me wants to share information on managing change," says Ema.
In an exclusive interview for digitalcxo.com conducted by Bonnie Schneider, technology trend watcher Ema offers her insight and predictions on what's ahead for 2023 in the world of digital transformation and how climate-induced extreme weather events may may impact the need for modernizing legacy operational processes and business models.
As 2022 comes to a close, how do you think the past couple of years – with so many people working from home, has influenced the process of information flow and implementing ways to improve operations through technology?
One big trend that I've seen is the use of process mining and digital tools for us to focus on how we improve. This means not only applying technology, but actually examining underlying processes. Working from home thrust us into an immersive environment where you had to fix inefficiencies. People will continue to look to optimize the process component of their businesses. Mining tools can provide insights to advance core processes through potentially, robotic automation.. Keep in mind though, digital transformation is holistic – one single tool isn't going to solve all of your problems.
At the beginning of COVID-19, a lot of organizations were looking at RPA and thinking if we implement this robotic process, it will be our silver bullet for solutions. It's important to understand there needs to be a seamless flow of information and data across your systems – not only from the employee side, but also from the customer perspective. The process can't be disjointed from touch point to touch point.
In research published by the Harvard Business Review in 2022, the majority executives (72%) surveyed said they must "radically transform their operations during the next two years to compete." That is up 62% from their 2020 responses. Looking ahead to the New Year, how do you think the financial cost of executing those upgrades will be evaluated, and can you share  recent conversations you've noticed emerging in the digital transformation space?
Many people, especially as we may be heading into a potential recession, are asking: what's the ROI? How do we balance doing more with less, yet at the same time invest to enable the greatest success?
One chief innovation officer I spoke to told me that the most expensive part of a digital transformation is anything that has the letters "RE" on the front end, as in: Rework, reimplement, redeploy.
My advice for companies when it comes to making these changes is to over-communicate with people as to why the change is needed and share what benefits will accrue over time. Stay involved and regularly inform your team as to what's happening and why. It may feel repetitive, but if your team is over a thousand people, for example, you may not reach everyone with initial messaging.
The more frequently you can bring people along for the digital transformation journey via clear communication, the greater likelihood the message will resonate with them. It takes something like five to seven times for somebody to hear a a message and actually have it sink in. So you need to be hitting your team with that.
Recent conversations in the digital transformation space are centered on AI. The internet has been blowing up with talk about chat GPT. This is technology that's been around, but the components that make up conversational AI have been gaining more and more capabilities and getting stronger. You're starting to see GPT implemented into different areas, and as part of solutions they weren't part of before.
I think there's going to be more adoption of those types of tools in places like call centers. We will see ongoing discussions around how AI is going to start shaping creation versus just processing for us.
Another continued focus for organizations is cloud migration. We've obviously been seeing that over the last couple of years, but now we've really gotten to the point where not hosting in the cloud can pose a business risk. But along with that migration means things like sun setting legacy applications and asking: How do you start to future-proof core components moving forward?
Speaking of mitigating future risk…according to the World Meteorological Organization, weather and climate-related disasters – extreme floods, heat and drought affected millions of people and cost billions in 2022 – as tell-tale signs and impacts of climate change intensified.
Ema, as someone who helps companies implement technological strategies and solutions, do you anticipate addressing the risk climate change poses will come into greater focus in 2023 and potentially accelerate the rate at which organizations digitally transform?
I do think climate change has an impact. More extreme weather events point to the need to back things up on the cloud. Specifically within the insurance space,  I've seen a lot of conversations, centered around the idea of, how we start to mitigate risk, as opposed to only responding to it. And much of that is due to climate change. These carriers are effected by the magnitude of these climate catastrophes that are coming and the frequency of them.
Going forward, I believe there will be greater emphasis on building infrastructure that allows you to withstand giant climate events that are happening, whether it's a flood or a heatwave, or any of these other things that might be impacted by climate change. I think technology is certainly going to be a pretty key tool for us to figure out how we counterbalance some of the challenges that we've created over the course of time.
The rate of change in general, and everything in our life, has been expedited by technology – and that shift and how we manage it, to me, is no long a singular endeavor.  It's how you manage continuous change and adapt as an organization.
(Please note, this Q&A has been edited for brevity.)